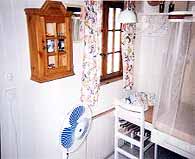 Section A: Small downstairs room, sleeps one (2), small kitchen, small bathroom and porch. Steep stair leading to two small rooms in the attic, sleeps one (2).
Section B: Attic-room with private entrance with adjoining porch with marvellous view. Few steps up to a small toilet and primitive kitchenette. Primitive shower on porch.
Section C: Double-room, main house (see pictures above.)
Straight below at beach is the Carriacou Yacht Club with
supermarket, laundry, telephone and fax.